Tina McCaffrey LC, CHHC, LSO is a pioneer in the field of integrative aesthetics and founder of Advanced Skincare Solutions. She is a Certified Holistic Health Coach, License Cosmetologist, Holistic Skincare Therapist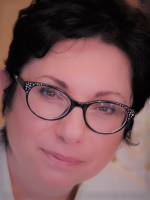 and Laser Technician with over 20 years experience.
During her career she has work in the offices of dermatologist, plastic surgeon and hair transplant surgeon. Her philosophy is beautiful skin starts form within and believes in a holistic approach using the interconnections of Functional Medicine, and Aesthetics. My fascination with skincare began as a result of my own skin issues. I struggled with acne from the age of 12 into my adulthood. I spent years trying anything and everything to fix my skin. Harsh topical products, aggressive skin scrubs, rough extractions and tanning beds to "dry out" my acne left my skin very damaged and unhealthy.
She has traveled both nationally and internationally to study clinical skin care with some of the leading doctors and innovative, skin experts in the world. It was during her holistic training and dealing with her own imbalances, that she became fascinated by the skin and discovered that your complexion is a reflection of your health. In her pursuit of becoming the most well-rounded, capable, skin expert she also holds certificates in reiki, shamballa, massage therapy, aromatherapy, integrative nutrition and oncology skincare. She studied cosmetic chemistry at UCLA to gain an understanding on how skincare ingredients interact with the skin.
She combines integrative health principles and practices, cutting edge technology, and the highest quality skin care products available to design a results orientated skin care program unique to each individual.