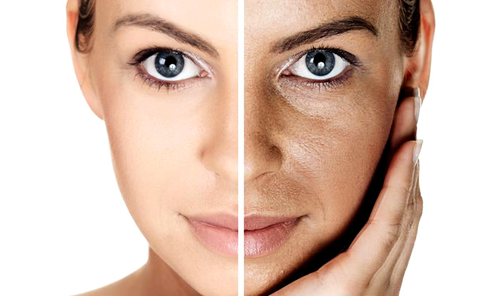 Get Rid of Brown Spots on the Face
Posted on
August 17, 2017
"How do I get rid of the brown spots on my face?"
This is one of the most common skin questions I hear from clients and one of the most challenging problems to resolve.
Hyperpigmentation (brown spots) means your skin produces too much melanin.
Melanin is the pigment that colors your skin, hair and the iris of your eyes. It comes from the Greek term meaning "dark."
Hyperpigmentation is a common, usually harmless condition in which patches of skin become darker in color. UVR is the major aggravating factor of excessive pigmentation.  If the DNA has been damaged then the cell will always have the potential to reappear again.
Skin cells have a memory and the longer you have them, the harder they are to fade and, even then, small amounts of UV light can reactivate them quickly. In addition to that, did you know that overheated skin can also make brown spots worse?
Keep in mind that the sun (which is commonly known to be one of the main causes of hyperpigmentation in the skin) never, ever saw my forehead because I had a hat on. What happened was that the skin on my forehead got overheated from both the sweat and heat caused from running, as well as the band on the visor, trapping additional heat into the forehead. Basically, when I took off my visor post-run, my forehead was beet red and it triggered melanin activity making my spots worse.
So what can you do to fade brown spots on skin?
The goal is to suppress melanin activity as much as possible to get those pigmented cells to go to sleep, and therefore fade. This means not only being strict about staying out of the sun and protected when you're in it, but also keeping the temperature of the skin low and avoiding extreme heat. (This is why I won't do one of those HOT yoga classes.)
Use a skin lightener.
I always advise my clients to go the non-prescription route first, since prescription bleaches like Hydroquinone have controversy associated with them that may be harmful for your health.  My favorite skin lightening ingredient is Magenisum Ascorbyl Phosphate, a form of vitamin C that is a proven melanin suppressor.
There are also other fading ingredients like Licorice Extract, Kojic Acid, Arbutin and Daisy Flower Extract that can also help inhibit melanin production.
Exfoliate often, but gently.
Exfoliants such as facial mask & mild  exfoliating acids such as glycolic acid is a must. These exfoliants, when used regularly, can help break pigment, which will lessen their appearance.
It's important to not overdo it with exfoliating products, because during the summer when melanin cells are active, too much exfoliation may actually trigger more melanin. Do not use a scrub with round beads, like apricot kernels can be too irritating.  In addition, the use of exfoliating acids can increase sun sensitivity, which can make the skin vulnerable to the sun. My favorite mask is a mandelic brightening mask.
Pigmentation is so reactive and easily stimulated from heat, sun, aggressive rubbing (this is why I've talked about how the Clarisonic brush isn't ideal for people with a lot of brown spots), and certainly hormones and genetics are a factor too.
Use a product containing retinol.
Retinol is essential to use as part of an anti-aging strategy to ensure an even-tone, and reduce discolored spots on your skin. This should be supervised by a skincare professional to make sure not to have an adverse reaction.
To be able to offer effective long-term treatment solutions, our  skin treatment specialists fully understand the prevailing skin condition and have an in-depth knowledge of the cells, and systems, involved to be able to confidently offer corrective programs.
At Advanced Skincare we will design prescription strength, customized program to give you the best chance of successfully diminishing your hyperpigmentation.
Treatments
Facial peels are a good place to start, encouraging cell turnover and helping to lighten pigmentation on the surface of the skin. When used in conjunction with medical-grade skincare they should give results.
Sonophoresis Facials uses ultrasound technology for the skin, to produces tiny invisible cavities, allowing pigment-inhibiting ingredients such as vitamins A and C to penetrate to a deeper level in the skin, where they can work their magic.
Intense Pulsed Light emits a pulse of light at a wavelength that is absorbed by the melanin in the pigmented age/sun spot. This heat causes the particles of pigment to break up into smaller particles of pigment, where they eventually flake away.
High Frequency treatments are an affordable non-laser treatment for minor skin imperfections.  This is great for treating hyper-pigmentation, broken capillaries, milia, sebaceous hyperplasia, keratosis and much more.  Treatments are quick, and barely touch the skin, working only on the epidermis.
Best results are achieved with multiple treatments.
How to Prevent Hyper pigmentation and brown spots on skin
Whatever the type of your skin is, you are at risk of hyperpigmentation such as age spots, melasma and even sun spots under certain situations. Maintaining a clear skin all year round can be difficult, most especially if you are living in a place that gets lots of sun rays. However, there are many things which you can do in order to avoid those brown spots on skin and parches from developing. Following your skin care, beauty regimen and staying away from direct sunlight are some ways to avoid excessive skin pigmentation.
Twice daily wash face & apply:
 Use Vitamin C serum daily.

Apply a Natural Lightening cream. Peptides are a new generation of Lightening agents that can be used for a longer duration without any side effects.

Creams containing glycolic acid can be used for more uniform exfoliation. Use a few times a week.

Retinol is an ingredient derived from vitamin A that is proven to lift brown spots and reduce the appearance of large pores, lines and wrinkles. Apply at night.

Wear broad spectrum sunscreen of at least SPF 30 to prevent excessive melanin synthesis